FIDO U2F
How to use Ledger devices for enhanced, second factor authentication
Secure your accounts / personal accounts with the most trusted hardware wallet. With FIDO Universal 2nd Factor (U2F) app, you can enhance the security of your accounts on Gmail, Facebook, Github, Dashlane, Dropbox and more…Using classical two-factor authentication (2FA) such as your Email or SMS for authentication is not recommended because today as hackers can easily break into your e-mail or even get a copy of your SIM card nowadays. Instead, a cold storage solution may be the safest solution to safeguard the access to your accounts.
How U2F works with Ledger devices
Install Ledger live and select Fido app
Download Ledger Live and select the Fido U2F app in the Manager section to install it on your device
Enhanced security now activated
Thanks to combining the security of your third party service and our Fido U2F app, you have now enabled a state-of-the-art security for your accounts
Compatible devices
Fido U2F increases your account's security as both your password and your Ledger device are required to login.
Ledger Nano S
Protect your assets with the first and only independently-certified hardware wallet on the market.
Learn more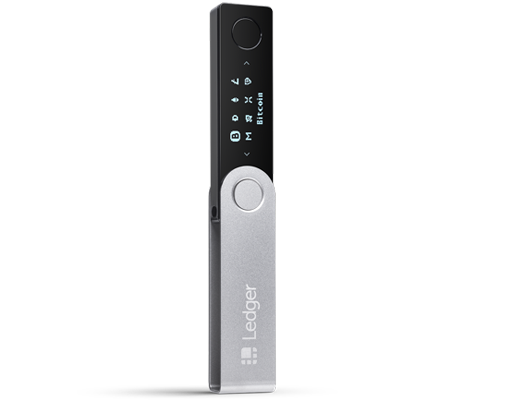 Ledger Nano X
The Ledger Nano X is the next generation hardware wallet, featuring Bluetooth to secure your crypto on the go.
Learn more
Most common questions concerning 2FA
What is 2FA and how it works?
Two-Factor Authentication (2FA) as its name suggest, adds another layer of security to your accounts by making sure that the login procedure involves something that only you would own on yourself, additionally to your user ID and password. This additional information could be a code received by SMS or by email, a code provided by the Google Authenticator application or an action on your favorite hardware wallet.
Why is 2FA important?
By adding one more step when authenticating your identity, you are making it harder for an attacker to access your data. This drastically reduces the chance of fraud, loss of data, or identity theft. In a world of digital crime, with hacking and fraud on the internet on the rise, there's never been a better time to safeguard your information with an extra level of security. Particularly for cryptocurrency investors who require state-of-the-art security to protect their funds.
Ledger, an Associate member of the Fido Alliance
Ledger is an Associate member of the FIDO alliance, thanks to Nicolas Bacca, co-founder and CTO of Ledger, who designed the 2nd commercial U2F implementation for Plug-up/Happlink and has been involved in the embedded security industry for more than 15 years. Our Ledger U2F application is FIDO Certified and open-source. The 24-word mnemonic phrase generated at setup also backups the U2F user identity, safeguarding losing your device or it malfunctioning. The U2F identity is also protected by the device PIN, providing a layer of protection when using U2F to authorize critical actions.
Finally, Ledger is working on the implementation of the next generation FIDO standard (FIDO2) to support the Transaction Authorization extensions to use the trusted display of the device to validate critical data and securely enforce the user validation of this critical data end-to-end.