Swap with Wyre
Easily exchange one crypto asset for another, directly through Ledger with our partner Wyre. As no fiat currencies are involved, swap is an easy & fast way to try out new crypto assets - and much more.

With Wyre, Ledger enables you to exchange Bitcoin, Ethereum and more crypto assets without leaving the security and convenience of your Ledger.
Learn more about Wyre
Why choose Ledger?
Industry-leading security
Exchange one crypto for another in a secure environment using your Ledger hardware wallet.
You're in control
No need to leave your crypto in someone else's hands while swapping: it's your portfolio, always be in full control of how to manage it.
Spoiled for choice
Exchange Bitcoin, Ethereum, USD Tether and more crypto assets directly through Ledger with Wyre - and we keep adding more!
Everything in one place
Ledger is the gateway to exchange crypto securely, and more: buy, sell, manage, grow... all in one app.
A Hardware wallet
that offers the best security for your crypto: your assets always remain safe.
An App
to securely swap and access all crypto services you need: buy, manage, grow… from one-single app.
The benefits of exchanging crypto through Ledger with Wyre
Established in 2013, Wyre is the leading infrastructure provider in crypto. Using Wyre's API, customers are able to instantly exchange crypto.
Easy swapping methods
Exchange 5 different coins through Ledger with Wyre including Bitcoin, Ethereum and USD Tether.
6 Steps to start swapping securely with Wyre through Ledger
Buy a Ledger hardware wallet
Ledger hardware wallets are the smartest way to securely store your assets.
Download Ledger Live
It's your gateway to securely and easily buy, manage, lend, and grow your assets. All in one app.
Set up your device
Follow the setup steps, and use the Ledger Live Account section to create accounts for the coins and tokens you want to swap.
Buy crypto or transfer funds
Use Ledger Live to directly buy crypto with our partners, or transfer funds from an exchange to your hardware wallet.
Prepare your swap with Wyre
In the Ledger Live Swap tab, select the crypto you want to swap, and your origin and destination accounts. Enter the amount to swap, choose Wyre as the provider and click Swap.
Verify and confirm on your device
Before confirming the swap, you'll see a summary on Ledger Live. After verifying the information on your Ledger wallet, you can confirm the swap.
Crypto to exchange with Wyre through Ledger
Bitcoin
Ethereum
Tether
USD Coin
Chainlink
Check your eligibility
Due to local regulation, swapping through Ledger with Wyre is not available for each American state
States
Alabama
Alaska
Arizona
Arkansas
California
Colorado
Delaware
Florida
Georgia
Idaho
Illinois
Indiana
Iowa
Kansas
Kentucky
Louisiana
Maine
Maryland
Massachusetts
Michigan
Minnesota
Mississippi
Missouri
Montana
Nebraska
Nevada
New Jersey
New Mexico
North Carolina
North Dakota
Ohio
Oklahoma
Oregon
Pennsylvania
Rhode Island
South Carolina
South Dakota
Tennessee
Utah
Washington
West Virginia
Wisconsin
Wyoming
Territories
District of Columbia
Northern Mariana Islands
Puerto Rico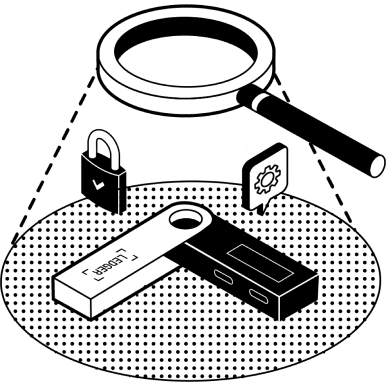 Frequently Asked Questions