EARN REWARDS* BY STAKING YOUR COSMOS WITH A LEDGER VALIDATOR
Staking your Cosmos (ATOM) allows you to passively earn rewards for helping to secure the network.

Through Ledger Live, you can easily and securely delegate the Cosmos you want to stake to a Ledger validator node.

You'll get competitive rewards, a trustworthy validator, and you keep ownership of your coins.
Stake your ATOM now
WHY YOU SHOULD STAKE YOUR ATOM
ATOM presents itself as the Internet of blockchains and allows you to freely exchange assets and data on a multitude of sovereign and decentralized blockchains.
Maximise your assets
Don't let your assets gather dust. Put them to work and make them grow with Ledger.
Secure the network
When you stake ATOM, you make the Cosmos blockchain successful by securing the network and validating transactions.
STAKING ATOM IS BETTER WITH A LEDGER VALIDATOR
Security and ownership
Keep full custody of your assets when you stake with Ledger, unlike with crypto exchanges. So you're in total control.
Competitive rewards*
Earn rewards of up to 20% when choosing a Ledger validator, thanks to our low commission fees.


*Rewards are not guaranteed
Trusted service
Our tech is cutting edge, so you can rest assured that you're delegating your coins to a trusted validator.
Start with Ledger Live

Earn rewards
You can passively grow your assets with Ledger by participating in the Cosmos network. By delegating your ATOM to a validator like Ledger, you will receive rewards for helping to secure the network.

The maximum annual yield on ATOM is up to 20%, minus the validators' fees.

You can collect your rewards at any time on your account in Ledger Live.

If you want to stop delegating or redelegate to other validators, you need to wait 21 days before having your assets back.
Estimate your rewards
Uma carteira hardware
que oferece a melhor segurança para suas criptos e NFTs - seus ativos permanecem sempre seguros.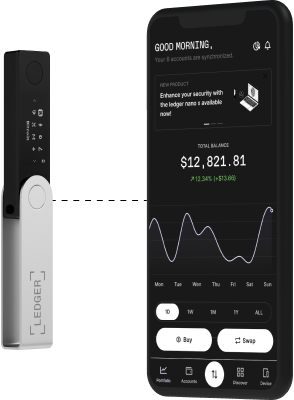 Um aplicativo
para gerenciar sua cripto e acessar serviços essenciais: comprar, trocar ou aumentar seus ativos. Com segurança graças à sua carteira hardware.
Adquira seu dispositivo
5 STEPS TO START SECURELY STAKING COSMOS
Deseja saber mais sobre staking?
Respondemos a todas as perguntas básicas que você possa ter na Ledger Academy: o que é staking? Qual é a diferença entre Prova de Participação e Prova de Trabalho? O que é um validador?

Você também pode dar uma olhada em nossa série School of Block no Youtube para aprender como começar a fazer staking e faça o seu dinheiro trabalhar para você.
Visite nossa Ledger Academy