ERC20 wallet
The best wallet for your ERC20 tokens
Secure your ERC20 assets with the most trusted wallet. Cold storage wallets are encrypted devices that store your ERC20 assets offline, providing a layer of security against the evolving threats emerging from being connected to the internet. Discover our crypto wallet
What is ERC20?
ERC20 is Ethereum Request for Comment, number 20. ERC20 is a formal Ethereum Improvement Proposal (EIP) that was adopted as a smart contract token standard on Ethereum's blockchain.
It is a protocol standard that defines specific rules and standards for issuing tokens on the Ethereum's network.

The majority of tokens issued on the Ethereum blockchain are ERC20 compliant. It allows one token to be traded with another.
What is an ERC20 wallet?
An ERC20 wallet is a wallet that lets you manage ERC20 compliant tokens.
To store and manage coins from the Ethereum blockchain, you need a compatible cryptocurrency wallet.
Whether you're looking to keep your tokens safe and HODL or manage them on a daily basis, Ledger has the right product for you.
Ledger hardware wallet
Ledger hardware wallet stores your private keys and signs transactions offline, making them resistant to malicious attacks and threats.
Ledger Live App
Ledger Live App is a gateway to managing your assets, staking and earning passive income, checking your real-time balance, tracking transaction histories, and more.
How to get an ERC20 wallet?
01
Get Ledger Nano
Select and purchase a Ledger wallet of your choice.
Beginner in the crypto world? Get started with Nano S Plus.
Prefer a Bluetooth connection? Try with Nano X.
02
Download and install what could be the best app for crypto: Ledger Live
Download and install Ledger Live in a couple of clicks. Ledger Live is a crypto app for desktop & mobile that enables you to set up a Ledger device and manage your coins.
03
Add Ethereum to your portfolio
Install Ethereum on your Ledger Nano:
Open Ledger Live and navigate to Manager.
Connect and unlock your Ledger device.
Search for Ethereum in the app catalog and click Install.
Head to Accounts
Add Account
The best way to keep your ERC20 tokens secure
Secure multiple assets, including all ERC20 coins using a Ledger hardware wallet. Your private keys, giving access to your assets, remain safe in a certified secure chip.
NEW
LEDGER NANO S PLUS
Protect your ERC20 assets with the first and only independently-certified Ethereum wallet on the market.
Discover our Nano S Plus
BEST SELLER
LEDGER NANO X
The Ledger Nano X is a Bluetooth enabled secure and CES award winning device that protect your Ethereum assets.
Discover our Nano X
Choice of 5,000,000+ customers
Bertil A.
5/5
In order to secure cryptocurrencies, Ledger is the perfect tool.
Kevin L.
5/5
Simply a very elegant peace of hardware, with a gorgeous UI in the app.
James P.
5/5
ALL is good, all legal resources bought was as specified and compliant, party on.
Read more reviews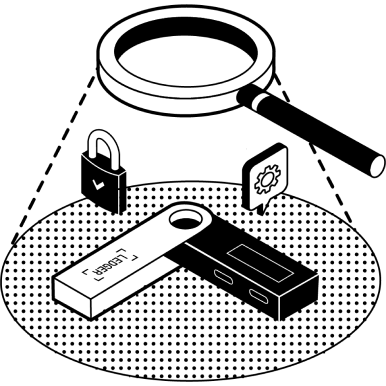 Frequently Asked Questions