XRP wallet
The best crypto wallet for your XRP
Secure your XRP assets with the most trusted cold wallet. Cold storage wallets are encrypted devices that store your XRP coins offline, providing a layer of security against the evolving threats emerging from being connected to the internet. Discover our cold wallet
What is XRP?
XRP is a cryptocurrency that acts as the underlying bridge that facilitates the transfer of value, making money transfers between traditional financial institutions cheaper and faster. XRP Ledger, a cryptographic ledger built by Ripple, the company behind XRP, is powered by a network of nodes and uses XRP as its native cryptocurrency to settle transactions. This is also the primary use case of XRP.

The Proof-of-Work (POW) or Proof-of-Stake (POS) methods employed by the majority of current blockchains are different from the consensus mechanism utilized on the XRP Ledger network to arrange and complete transactions. XRP Ledger uses a list of recommended validators called the "Unique Node List" (UNL) that are considered while building consensus.

The UNL validators compare their respective versions of Ledger with one another in a multi-round process. Then, the validators adjust their versions until there is an agreement between 80% of them (a supermajority) about the right order of transactions. Each UNL validator then adjusts their Ledger to match the supermajority, upon which the new state is finalized.

Ripple Labs wants to use the XRP technology to speed up banking transactions all across the world. Ripple is nearly the exact opposite in every way of Bitcoin and other cryptocurrencies, which are founded on the idea of isolating financial transactions from the financial institutions of traditional currencies.
What is a XRP wallet?
To store and manage XRP, you need a compatible hardware wallet. Whether you're looking to keep your tokens safe and HODL or manage them on a daily basis, Ledger has the right product for you.
Ledger hardware wallet
Ledger hardware wallet stores your private keys and signs transactions offline, making them resistant to malicious attacks and threats.
Ledger Live App
Ledger Live App is a gateway to managing your assets, staking and earning passive income, checking your real-time balance, tracking transaction histories, and more.
How to get a XRP wallet?
01
Get a Ledger Nano
Select and purchase a Ledger wallet of your choice.
Beginner in the crypto world? Get started with Nano S Plus.
Prefer a Bluetooth connection? Try with Nano X.
02
Download and install what could be the best app for crypto: Ledger Live
Download and install Ledger Live in a couple of clicks. Ledger Live is a app for crypto for desktop & mobile that enables you to set up a Ledger device and manage your assets.
03
Add XRP to your portfolio
Install XRP on your Ledger Nano:
Open Ledger Live and navigate to Manager.
Connect and unlock your Ledger device.
Search for XRP in the app catalog and click Install.
Head to Accounts
Add Account
The best way to keep your XRP coins secure
Secure multiple assets, including XRP using a Ledger hardware wallet. Your private keys, giving access to your assets, remain safe in a certified secure chip.
NEW
LEDGER NANO S PLUS
Protect your XRP assets with the first and only independently-certified XRP wallet on the market.
Discover our Nano S Plus
BEST SELLER
LEDGER NANO X
The Ledger Nano X is a Bluetooth enabled secure and CES award winning device that protect your XRP assets.
Discover our Nano X
Choice of 6,000,000+ customers
Bertil A.
5/5
In order to secure cryptocurrencies, Ledger is the perfect tool.
Kevin L.
5/5
Simply a very elegant peace of hardware, with a gorgeous UI in the app.
James P.
5/5
ALL is good, all legal resources bought was as specified and compliant, party on.
Read more reviews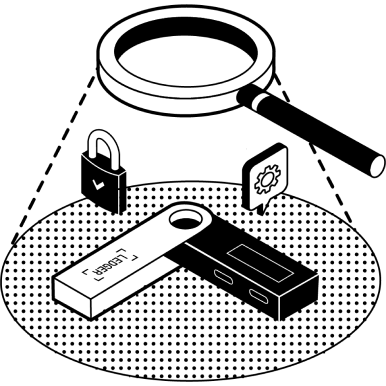 Frequently Asked Questions