Internet Computer wallet
The best cold wallet for your Internet Computer
Secure your Internet Computer coins with the most trusted wallet. Cold storage wallets are encrypted devices that store your Internet Computer tokens offline, providing a layer of security against the evolving threats emerging from being connected to the internet. Discover our cryptocurrency wallet
What is Internet Computer?
Internet Computer (IC) is the world's first blockchain that is capable of running at web speed at unrestrictive capacities. Built by the DFINITY Foundation, IC aims to recreate the web by supporting smart contract development at scale and changing the way people can interact using web services. Internet Computer aims to extend the public internet, so that it can be the world's computing platform, in a decentralized manner. Internet Computer sets to revolutionalize the design of the crypto economy, with an aim to overhaul traditional software services.
The project was founded in October 2016 by Dominic WIllams and have raised a total of $121 million. On May 10, 2021, DFINITY launched ICP utility token that allows tens of thousands of community members to govern the Internet Computer network.

ICP is Internet Computer's native token. It plays three prominent roles:
1. Network Governance: Users that participate in the governance will be rewarded with ICPI
2. Production of Cycles for Compute: ICP can be converted into cycles where it is used as the transaction fee to access the network. Cycles are burned after used.
3. Rewarding Users: ICP is used as the rewards to incentivize users to participate in the network such as securing the network.
What is a Internet Computer wallet?
To store and manage Internet Computer, you need a compatible cold wallet. Manage your coins with a compatible third-party wallet while keeping them safe with a Ledger device:
Ledger hardware wallet
Ledger hardware wallet stores your private keys and signs transactions offline, making them resistant to malicious attacks and threats.
Third-Party Wallet
Third-party wallet allows you to buy, send/receive, and swap Internet Computer, view transaction history, and more, depending on its capabilities.
How to get a Internet Computer wallet?
01
Get a Ledger Nano
Select and purchase a Ledger wallet of your choice.
Beginner in the crypto world? Get started with Nano S Plus.
Prefer a Bluetooth connection? Try with Nano X.
02
Download and install NNS dapp extension
Download and install a compatible third-party wallet that lets you manage your Internet Computer.
03
Connect your Ledger Nano to your NNS dapp
Connect your Ledger Nano to a computer/smartphone and unlock it.
Open your wallet extension.
Connect your NNS dapp to Ledger Nano.
You're all set, you can now use your NNS dapp!
The best way to keep your Internet Computer coins secure
Secure multiple assets, including Internet Computer using a Ledger hardware wallet. Your private keys, giving access to your assets, remain safe in a certified secure chip.
NEW
LEDGER NANO S PLUS
Protect your Internet Computer assets with the first and only independently-certified Internet Computer wallet on the market.
Discover our Nano S Plus
BEST SELLER
LEDGER NANO X
The Ledger Nano X is a Bluetooth enabled secure and CES award winning device that protect your Internet Computer assets.
Discover our Nano X
Choice of 6,000,000+ customers
Bertil A.
5/5
In order to secure cryptocurrencies, Ledger is the perfect tool.
Kevin L.
5/5
Simply a very elegant peace of hardware, with a gorgeous UI in the app.
James P.
5/5
ALL is good, all legal resources bought was as specified and compliant, party on.
Read more reviews
Cryptocurrencies similar to Internet Computer supported by our wallet
See the full list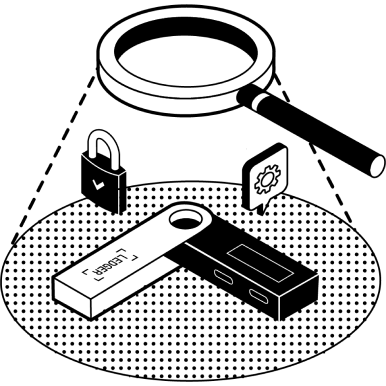 Frequently Asked Questions