IDEX
Ledger-friendly third-party DEX
The third-party lets you connect your Ledger device to their platform, so you can securely trade assets between users (peer to peer) through an automated process. The funds are held by you in your personal wallet and not by a third party.
Discover our wallets
Why do you need a hardware wallet?
When you own cryptocurrencies, what you really own is a "private key", a critical piece of information used to authorize outgoing transactions on the blockchain network. Whoever has the knowledge of this key can spend the associated funds. Hence the famous expression "not your (private) keys, not your bitcoins". Owning your private keys gives you much more power and control.
Learn more
Choose Ledger + IDEX
IDEX is a decentralized cryptocurrency exchange relying on the Ethereum blockchain.Unlike other decentralized exchanges, IDEX manages the transactions for its users through smart contract. It provides the user a similar experience to centralized exchange while offering the security of using the Ethereum blockchain. Users can use Ledger products to trade directly on IDEX using the Ethereum application.
Keep control of your private keys using our state-of-the-art security products
Trade on the go
By plugging in IDEX our devices, you can easily buy and desposit an extensive range of tokens
Staking-Friendly
Idex staking allows you to contribute to the platform in exchange as a reward of a compensation in ether (ETH)
Ledger Hardware
Discover our products
To make sure you securely manage your crypto, we designed two hardware wallets: the Ledger Nano S and the Ledger Nano X.
Our devices allow you to manage multiple assets with a single hardware wallet, in a secured environment.
State-of-the-art
security
Ledger Nano S
Protect your crypto with the first and only independtly-
certified hardware wallet on the market.
Learn more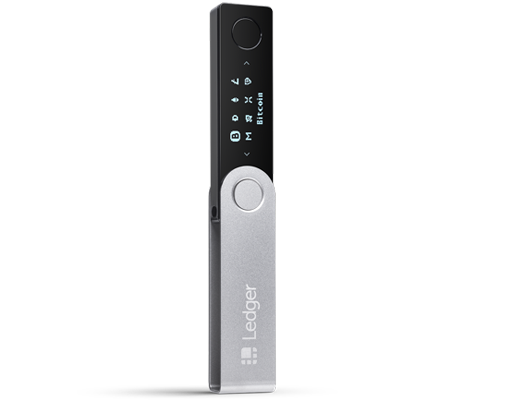 Ledger Nano X
The Ledger Nano X is a new Bluetooth enabled secure device that protects your crypto.
Learn more
Please do not store more coins on an exchange (including @krakenfx) than you need to actively trade. Use Ledger or Trezor. DEXes are not a panacea — look at the DAO. Open source just means exploits will be discovered sooner (probably not by good guys).
Jesse Powell, CEO Kraken
Ledger Live
The companion to your Ledger hardware wallet.
Discover Ledger Live, our own desktop and mobile application, allowing you to set up your device & manage your assets.
Learn more
Other compatible Third party services