Swap with Changelly
Easily exchange one crypto asset for another through Ledger with our partner Changelly. As no fiat currencies are involved, swap is an easy & fast way to try out new crypto assets - and much more. With Changelly, Ledger enables you to exchange more than 45 crypto assets without leaving the security and convenience of your Ledger.
Why choose Ledger?
Industry-leading security
Exchange one crypto for another in a secure environment using your Ledger hardware wallet.
Self-custody
Your swapped assets are sent by the swap provider straight to your Ledger account to keep them secure.
Spoiled for choice
More than 45 crypto assets to swap directly through Ledger with Changelly - and we keep adding more!
Everything in one place
Ledger is the gateway to swap crypto securely, and more: buy, sell, manage, grow... all in one app.
A Hardware wallet
that offers the best security for your crypto: your assets always remain safe.
An App
to securely swap and access all crypto services you need: buy, manage, grow… from one-single app.
The benefits of swapping through Ledger with Changelly
Changelly is a crypto asset exchange platform aims at making your access to crypto easy. It provides users with speedy transactions and a wide range of crypto supported.
Trustworthy provider
Trusted by 2.5 million customers and with 6 years of market experience, Changelly applies transparent fees and offers a reactive live chat support.
Learn more about Changelly
Freedom of choice
Choose the option that suits you best when you swap: a fixed rate to know how much you will receive in advance, or a floating rate to swap at market price with lower fees.
Learn more about rates
6 Steps to start swapping securely with Changelly through Ledger
Buy a Ledger hardware wallet
Ledger hardware wallets are the smartest way to securely store your assets.
Download Ledger Live
It's your gateway to securely and easily buy, manage, lend, and grow your assets. All in one app.
Set up your device
Follow the setup steps, and use the Ledger Live Account section to create accounts for the coins and tokens you want to swap.
Buy crypto or transfer funds
Use Ledger Live to directly buy crypto with our partners, or transfer funds from an exchange to your hardware wallet.
Prepare your swap with Changelly
In the Ledger Live Swap tab, select the crypto you want to swap, and your origin and destination accounts. Enter the amount to swap, choose Changelly as the provider and click Swap.
Verify and confirm on your device
Before confirming the swap, you'll see a summary on Ledger Live. After verifying the information on your Ledger wallet, you can confirm the swap.
Crypto to swap with Changelly through Ledger
Bitcoin
Ethereum
Ripple
Tether
Litecoin
Stellar
Chainlink
USD coin
Bat
Dai
Bancor
0x
Check your eligibility
Due to local regulation, swapping through Ledger with Changelly is not available for each country.
Africa
Kenya
Nigeria
South Africa
America
Antigua & Barbuda
Argentina
Brazil
Canada
Chile
Colombia
Dutch Caribbean
Guadeloupe
Netherlands Antilles
Peru
Asia
Hong Kong
India
Indonesia
Philippines
Taiwan
Europe
Austria
Belgium
Bulgaria
Croatia
Cyprus
Czech Republic
Denmark
Estonia
Faroe Islands
Finland
France
Germany
Gibraltar
Greece
Greenland
Guernsey
Hungary
Iceland
Ireland
Isle of Man
Italy
Jersey
Latvia
Liechtenstein
Lithuania
Luxembourg
Malta
Monaco
Netherlands
Norway
Poland
Portugal
Romania
Russia
San Marino
Slovakia
Slovenia
Spain
Sweden
Switzerland
Turkey
United Kingdom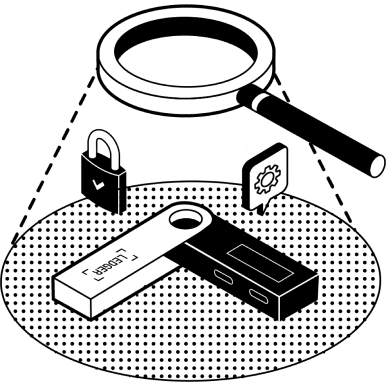 Frequently Asked Questions