VeChain wallet
The best cryptocurrency wallet for your VeChain
Secure your VeChain assets with the most trusted cold wallet. Cold storage wallets are encrypted devices that store your VeChain coins offline, providing a layer of security against the evolving threats emerging from being connected to the internet. Discover our cold wallet
What is VeChain?
Launched in 2015 as a private consortium network, the VeChain Foundation went on to develop the VeChainThor public blockchain, a fully programmable EVM compatible L1 smart contract platform that is adaptable to wide-ranging real-world needs. Supply chain, sustainability, carbon emissions, SDGs, De-Fi, NFTs and more, VeChainThor seamlessly handles it all.
A unique two-token model ensures low and stable transaction costs while an advanced Proof-Of-Authority consensus mechanism guarantees high throughput, scalability, and security with minimal energy consumption, culminating in zero downtime for the network after 3+ years of continuous operation.

VeChain Technology continues to pioneer real-world blockchain applications across the globe with offices in China, Singapore, Luxembourg, Japan, France, San Marino and the United States.

Strong independent development capabilities combined with the professional compliance guidance of strategic partners PwC and DNV GL has enabled VeChain to establish partnerships with leading enterprises including Walmart China, Bayer China, BMW Group, BYD Auto, PICC, H&M Group, Shanghai Gas, LVMH, D.I.G, ASI Group and more.

What is a VeChain wallet?
To store and manage VeChain, you need a compatible cold wallet. Manage your tokens with a compatible third-party wallet while keeping them safe with a Ledger device:
Ledger hardware wallet
Ledger hardware wallet stores your private keys and signs transactions offline, making them resistant to malicious attacks and threats.
Third-Party Wallet
Third-party wallet allows you to buy, send/receive, and swap VeChain, view transaction history, and more, depending on its capabilities.
How to create a VeChain cryptocurrency wallet?
01
Get a Ledger Nano
Select and purchase a Ledger wallet of your choice.
Beginner in the crypto world? Get started with Nano S Plus.
Prefer a Bluetooth connection? Try with Nano X.
02
Download and install VeChain Sync extension
Download and install a compatible third-party wallet that lets you manage your VeChain.
03
Connect your Ledger Nano to your VeChain Sync
Connect your Ledger Nano to a computer/smartphone and unlock it.
Open your wallet extension.
Connect your VeChain Sync to Ledger Nano.
You're all set, you can now use your VeChain Sync!
The best way to keep your VeChain coins secure
Secure multiple assets, including VeChain using a Ledger hardware wallet. Your private keys, giving access to your assets, remain safe in a certified secure chip.
NEW
LEDGER NANO S PLUS
Protect your VeChain assets with the first and only independently-certified VeChain wallet on the market.
Discover our Nano S Plus
BEST SELLER
LEDGER NANO X
The Ledger Nano X is a Bluetooth enabled secure and CES award winning device that protect your VeChain assets.
Discover our Nano X
Choice of 6,000,000+ customers
Bertil A.
5/5
In order to secure cryptocurrencies, Ledger is the perfect tool.
Kevin L.
5/5
Simply a very elegant peace of hardware, with a gorgeous UI in the app.
James P.
5/5
ALL is good, all legal resources bought was as specified and compliant, party on.
Read more reviews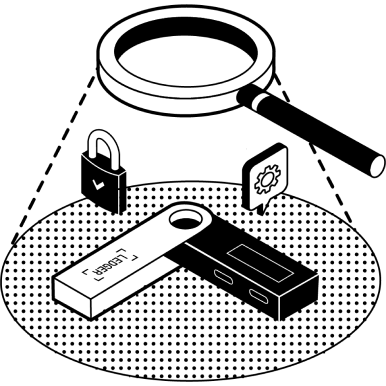 Frequently Asked Questions