STAKING YOUR POLKADOT SECURELY TO EARN REWARDS*
Staking your Polkadot (DOT) allows you to passively earn staking rewards for your help to secure the network.

Through the Ledger Live app, you can easily and securely delegate your Polkadot to a validator and start earning rewards, passively.
Stake Polkadot now
WHY STAKING YOUR POLKADOT?
Polkadot is a new generation blockchain protocol that simplifies cross-chain interoperability and communication by bringing multiple blockchains into one network.
Earn Polkadot rewards*
Staking Polkadot offers an average return of 14%. This rate may vary depending on different criteria.


Help yourself
By staking your Polkadot (DOT), you help secure the network and validate transactions. You are part of the Polkadot blockchain success!
Why stake Polkadot (DOT) with Ledger
Highly secure
Grow your Polkadot bag while securely holding them with your Ledger device. You are in control.
Freedom of choice
It's up to you to choose which validators you want to delegate your Polkadot to.
All in one place
You can manage, buy, swap, and stake your Polkadot through Ledger Live with our partners. All your crypto needs, in one app.
Start with Ledger Live

Earn staking Polkadot rewards
You can passively grow your assets with Ledger by participating in the Polkadot network as a nominator. By validating blocks, validators receive rewards which are redistributed to their nominators.

The current annual yield on Polkadot is around 14%, minus the validators' commission rate.

Carefully select your validator(s) as the rewards you'll receive will depend on them. If they do not behave properly, they will get slashed and you will lose DOT as well. Only a certain number of validators at a time can participate in the consensus and be nominated. This process is called election and happens every era (about 24h on Polkadot).

You can stop nominating at any time but you will need to wait 28 days to unlock your assets.
Estimate Polkadot staking rewards
A hardware wallet
that offers the best security for your crypto and NFTs - your assets always remain safe.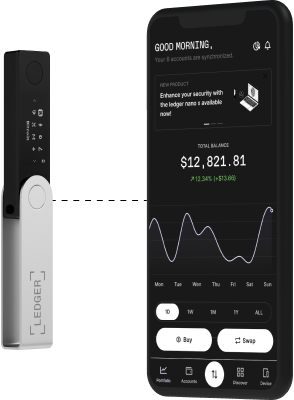 An app
to manage your crypto and access key services: buy, swap or grow your assets. Securely thanks to your hardware wallet.
Get your device
Stake your Polkadot with Ledger
Want to learn more about staking?
We answer all the basic questions you might have in our Ledger academy: What is staking? What's the difference between Proof-of-Stake and Proof-of-Work? What is a validator?

You can also take a look at our School of Block series on Youtube to learn how to get started in staking and make your money work for you.
Visit our Ledger Academy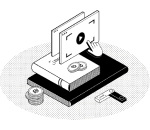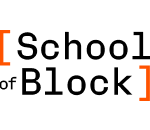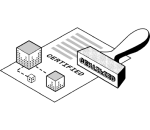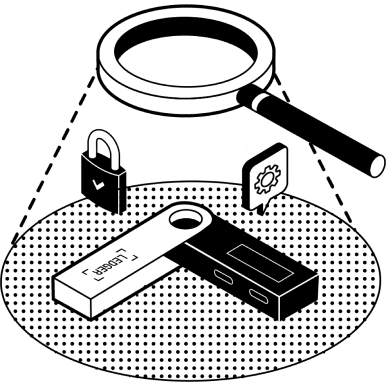 Frequently Asked Questions